While sideboards traditionally were used as additional serving spaces for dining rooms, these versatile pieces have come a long way and are now taking centre stage in nearly all rooms of the house. Here we take a look at the top three reasons for introducing a sideboard into your interiors.
Hidden Storage
One of the biggest perks of a sideboard is the generous amount of storage they offer. When looking for extra organisational space, sideboard shelves and drawers can be filled to the brim, making them the ideal solution. The Oscar Sideboard (£599) is carved from eco-friendly mango wood to give ample storage with two shelves varying in size and two roomy draws. For even more storage space, the Toshi Sideboard (£749) boasts a two-door cupboard spilt internally into four, adjacent to which are three sizeable draws.
Display Space
The top of a sideboard brings new opportunities to accessorise a room with lamps, books, vases and photo frames. Display space is invaluable when it comes to making a house feel like a home, and this additional surface will benefit from large vases filled with dried eucalyptus, precious photographs and favourite books.  The glittering gold finish of the brass clad Broadway Sideboard (£799) is sure to draw the eye with a complementary glass lamp and cream vase on top, while the subtle green marble surface on the Jade Marble Sideboard (£799) works with a range of home décor styles.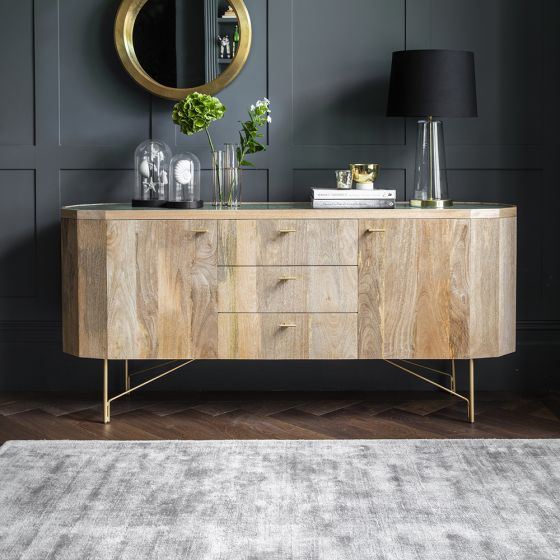 Jade Marble Sideboard (£799)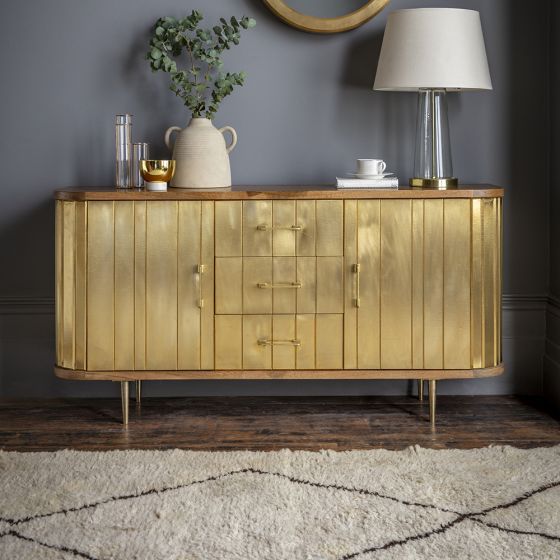 Broadway Sideboard (£799)
Design Features
Arguably, the best reason to add a sideboard to the home, is that often they are design features in and of themselves. With an array of patterns and materials, a sideboard can easily become a show stopping piece and it's an easy way to incorporate new trends. The Jumeirah Sideboard (£599) has an intricately hand carved geometric design giving it an eye-catching Art Deco feel, while the acid-etched iron on the Mercury Sideboard (£899) has a striking look that is sure to get people talking.
Jumeirah Sideboard (£599)