1. Channel utilitarian cool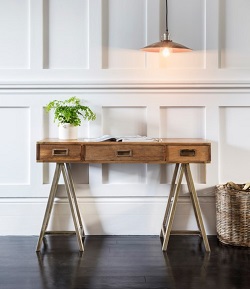 A traditional trestle table design is perfect for creating a casual home office environment, giving a utility feel that offers plenty of workspace for every study essential. Unleash your inner Austen and put pen to paper with our very own Bennett (£399),a desk that ticks all the boxes and features three handy drawers for storing all your stationery and other bric-a-brac.
2. Light it up with dark and moody luxe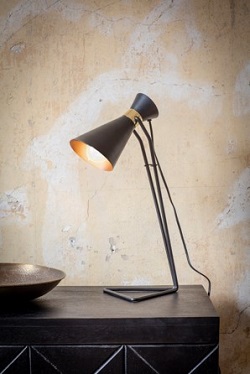 Dark, moody colour schemes and metallic hues are bang on trend for creating an opulent interior, and with its sleek lines, black powder coating and gold accents the Franklin Desk Lamp (£49) is sure to add a touch of contemporary sophistication to any study.
3. Opt for a bright occasional chair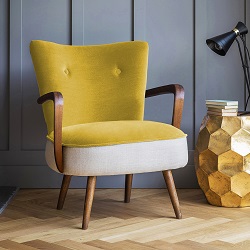 Even studies sometimes need a place to kick back, and an occasional chair provides the perfect excuse to do just that. Ideal for a cosy reading corner, our ergonomic Calvin Armchair (£369) is available in three sumptuous shades, including vibrant Mustard Yellow to make any interior pop, and provides a comfort and class that will complement both classic and contemporary schemes.
4. Set the scene with a sturdy floor lamp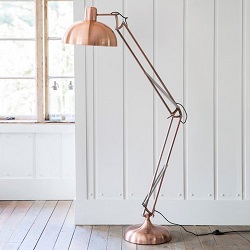 No office is complete without some ambient lighting to set the scene, and a stylish floor lamp with a weighted base can be the ideal solution if you're looking to shed some light on a reading nook. With its fully adjustable wing arm, perfect for craning in all directions, our oversized Hector Angled Floor Lamp in Copper (£159) is sure to add a touch of drama to any design.
5. Invest in two-in-one comfort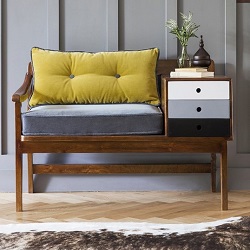 With the size of rooms slowly diminishing, compact solutions for smaller spaces are becoming increasingly popular. For a study with tighter dimensions, try a practical two-in-one option such as our Watson Telephone Table Seat(£549), which includes an integrated three-drawer unit for ample storage and is perfect for creating a mid-century look.