'Make-Shift' Market
Street food fairs are typically made up of portable serving stations which can be easily relocated ready to 'pop up' elsewhere at a moment's notice. For this reason, street food style is raw, slightly unfinished and undoubtedly 'industrial'. Like the food, it appears to have been 'thrown together' to create an effortless yet impactful look.
Pendant lighting featuring mixed metallic finishes and unadorned, utilitarian outlines is the ideal way to add an injection of the industrial look synonymous with the street cuisine scene. Blending chrome and burnished brass finishes and a simple domed silhouette, the Contemporary Ceiling Pendant Light (£99) is an ideal choice. An exposed braided fabric flex completes the industrial look. The Arcadia Three Cluster Ceiling Pendant (£89) is another fashionably functional lighting option; combining cage lighting in three different shapes with a burnished copper finish.
Variety Is the Spice of Life
Foodie festivals feature a fusion of flavours and the concoction of spices, fruits and vegetables combine to form a visual cocktail of colour and pattern. Incorporating a similarly varied selection of hues and patterns will help add street style to schemes.
Inspired by the designs of Morocco – a country famed for tasty street side dishes – the Lattice Geometric Silk Rug in Fuchsia (£69.00) is the perfect bold and beautiful addition to street food spaces. Woven from silk, with a wool backing and featuring subtle strands of turquoise, orange and yellow, the rug is guaranteed to both brighten, and warm, spaces. The Flower Burst Cushion (£29) will do just the same. Embroidered with an abstract floral design and featuring fuchsia pom poms, the cushion adds the variety of colour, warmth and texture synonymous with vibrant street market style.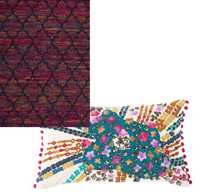 Well-Travelled
Street food is linked to a range of locations; from Africa to America, and the Philippines to Peru. For this reason, street food markets have a well-travelled, eclectic, almost boho look which draws design inspiration from a mix of destinations.
Handcrafted in India by skilled artisans, the mother of pearl pieces in our range will add the vibrancy, energy and blend of pattern and colour found in street side spaces. Our Classic Mother of Pearl Inlay Stool in Grey (£249) is an ideal pick. Although utilitarian in outline, the iridescent finish and ivory cotton chenille upholstery adds a touch of comfort and luxury. Native to Tropical Asia and Queensland, Australia and the national flower of India and Vietnam, the Lotus Flower also recalls far off destinations. The clean, curved outline of our Lotus Mirror (£198); based on the shape of the floral, and iits hammered white metal finish both add interest.