Scandinavian style has become a firm favourite in homes across the UK in recent years.
Much of the design from the region takes its cue from the fact it is home to some of the coldest places in the world and winters are typically dark, long and cold. For this reason, light, bright tones are used to keep rooms feeling fresh in darker evenings and there is a strong focus on comfort and cosiness.
Natural, yet warming, materials are also used throughout Scandinavian schemes to boost cosiness further and functional, minimal pieces enhance the clean, fresh look. So as, the UK enters the colder season, we hope these tips will help you create stylish, yet warming, Scandinavian style spaces!
Muted and Neutral Shades - Shoreditch Ceiling Pendant
Muted and neutral shades, such as white, grey and blue, are typical of Scandinavian spaces as they will help enhance any light in the area.
Our Shoreditch Ceiling Pendant was inspired by Scandinavian pendant lighting and is available in two muted hues; Sage Green and Ivory. The warming mood lighting this piece emits will also boost cosiness on darker evenings.
Comfort and Cosiness - Marble Wool Loop Rug In Neutral, Patchwork Cowhide Rug, Isometric Cowhide Rug, Flower Burst Cushion
Darker evenings mean that comfort and warmth are of paramount importance. Even though wooden floors are typical of the region, Scandinavia has a long rug making history so these winter warmers feature regularly in schemes. Opt for neutral colours and natural textures which hold their warmth, such as wool or even cowhide, to maintain a Scandinavian look. Our Marble Wool Loop Rug In Neutral, Patchwork Cowhide Rug and Ismoetric Cowhide Rug are all ideal.
Cushions can also help create a cosy feel. Although typically neutral and muted, the Scandinavian colour palette also includes pop of colour, in the vein of Marimekko. Our Flower Burst Cushion channels this bright, pop art-inspired look perfectly.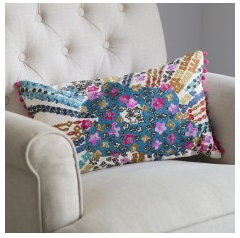 Functionality - Papillon Leather Chair
Scandinavian style interiors also have a strong focus on functionality; boasting clean lines, minimalist pieces, and spacious, clutter-free surfaces. This practical style always has an understated beauty however.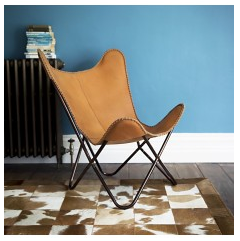 Our Papillon Leather Chair is based on the iconic 'Butterfly Chair' and its focus on function and stylish minimalist look means it is ideal for Scandinavian-inspired interiors. The tanned leather also works well in neutral or muted schemes and is in keeping with the focus on natural materials.