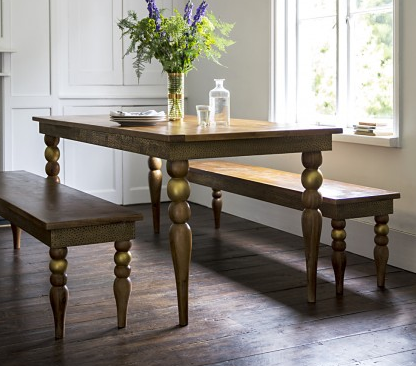 Table Runners
Table runners always add a sense of occasion as they are not typically used from day to day. Available in a range of styles, colours and textures, it should be possible to find a runner suitable for every style table. If you cannot find one readymade, scour fabric shops, your wardrobe, or charity shops for the perfect material, then trim and hem to fit!
Centre Pieces
Holly can always be counted on to conjure up a thoroughly festive feeling and can be displayed in a variety of ways. Laying sprigs along the centre will create a traditional look, but it can also be displayed in glass bottles, or even jam jars! To add a personal touch, you can ask each guest to 'donate' an item to use to in the display, and then let each take one home.
We also like to use baubles on the dining table, as well as on the tree. These can be displayed in glass bowls, jars, or even on a cake stand.
Candles also always add a festive feeling; their flame creating a warm, comforting glow. When picking these however, be careful not to use scented versions as these can interfere with the taste and smell of food - and you don't want your hard work in the kitchen to be compromised!
Festive Finishing Touches
Festive confetti sprinkled on the dining table makes for a sparkly finishing touch, or for an easier to tidy away alternative, cut festive shapes such as stars and snowflakes out of gold material and scatter over the table.
Tying ribbon, beads or wiring around napkins and cutlery will also turn table settings from standard to special. Shapes cut out of felt or card which reflect the interests of particular guests; a camera for a photography-lover for example, can also be tied onto napkins or cutlery.
When planning place cards, this is one opportunity to get really creative. Luggage tags tied around glasses and coasters or table mats embroidered with guests' names are unique ways to mark places.
A small festive gift at each seat can also add something extra. This can be anything from something which reflects a particular interest of each guest, to a candy cane or Santa hat!