Cool colours and monochrome schemes
Cool and tranquil colours such as pale blue, green, or purple will maximise the appearance of space in a room, so are a great choice for wall colourings.
Picking monochrome furniture and accessories can also help streamline a room and slim down pieces which may otherwise appear bulky. A perennial style favourite, monochrome will also leave you free to experiment with colour in other areas of the room over the seasons to come. The monochrome Cuboid Bone Inlay Geometric Nesting Tables (£199.00)are a great example; striking yet understated, they also feature a space-saving nesting feature ideal for smaller spaces.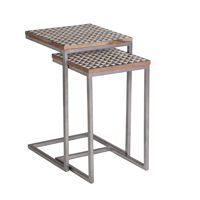 Low-rise furniture
Low rise furniture can also help a room feel larger as it will open up the area below the ceiling; creating the illusion of extra space. With this in mind, bold pieces are by no means out of the question for smaller rooms, if they feature a low height.
The Milligan Retro Multi Drawer Coffee Table (£369.00) is a great example. is a great example. Featuring an eclectic mix of iron, bone and faux crystal handles, this piece will add a quirky, vintage edge to interiors of any size.
Streamlining the contents of a room is another way to make spaces appear larger. Whether by size, colour or type, grouping pieces with a similar look can help rooms feel brighter and bigger. We love to line similar sized novels up on bookshelves and coffee tables.
Smoke and mirrors
Wall mirrors can also help rooms appear larger; reflecting both light and colour. The I Spy White Metal Window Mirror (£239.00) is one way to conjure up extra space. Featuring a white metal frame which will tarnish over time to give an authentic aged look, the metal can also be polished if you prefer a fresher look.
The space between furniture and the wall is also important in smaller rooms. Pulling furniture even just a couple of inches away from the wall can create the illusion of spaciousness and make any arrangement appear less crushed.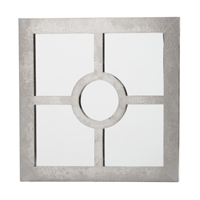 Long legged
Furniture with long, exposed legs will also help create a light and airy atmosphere by subtly making pieces appear less dense.
The Otis Button Back Linen Armchair (£249.00) is a great example. Upholstered in linen, the neutral colour of this chair is also certain to complement rather than clutter smaller rooms.