Blue and White
Blue and white are both synonymous with seaside spaces and should form the basis for any nautical scheme. Coastal colour palettes can also include other neutral hues however, and shades such as taupe, beige and grey will help add interest yet ensure the look remains suitably light and bright.
Blues in darker tones will help create an elegant, Hamptons-esque retreat and our handcrafted Pimlico Armchair (£395) is upholstered in an inky Blue Velvet which is ideal. A sophisticated silhouette and dark wooden legs complement this chair's graceful shade.
As well as blue, the chair is also available in natural linen.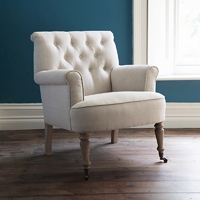 Authentic, lived-in, yet luxurious textures
Exposure to sand, wind and sea results in a weathered look which should be subtly incorporated into seaside interiors. Rather than head out in search of driftwood, this slightly weather-beaten look can be added sophisticatedly through use of natural materials and authentic textures.
The hand woven Marble Wool Loop Rug in Neutral (£229) features a unique textured look, yet the space dyed New Zealand wool used to craft it is super soft.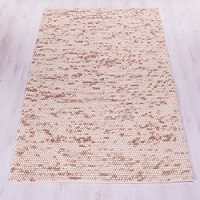 Hard wearing, yet exceptionally comfortable, linen is ideal for lakeside living. The bright, white shade will also add the freshness synonymous with the beach. Our linen Florence Armchair (£395) features button back detailing and a classic, curved outline which adds all the comfort synonymous with the beach house.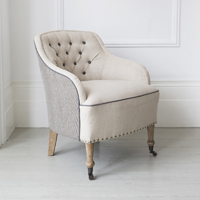 For kitchens, tougher materials and slightly stronger textures can be used to create the weathered look of the coast. Our Barcelona Dining Table in Grey (£498) features a polished, moulded concrete top which, coupled with its metal topped wooden legs, will add waterside style to spaces.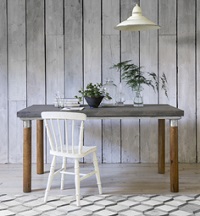 Seaside Accessories
Accessories in beachside interiors should allude to the adventure of seafaring as well as add intriguing, curious touches to rooms which embody the excitement of holidays and being by the sea.
The Sail Away Yacht (£69); handcrafted from mango wood and iron, is sure to prompt discussions of future trips and the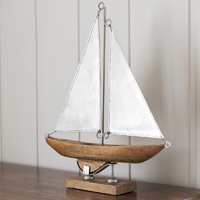 Globe on Tripod Stand (£59) is ideal for planning expeditions further afield.