Prioritise the space
Many homes will have areas or spaces that are hardly ever used, or worse, used as storage for general clutter while it awaits sorting. A walk-in wardrobe that is full of odds and ends could easily be transformed into a place of productivity. Repainting the walls is a good way to refocus the area and any inbuilt shelves will make great office storage. If space is tight, replace the door with a curtain, which can be conveniently closed to mark the end of the working day!
The quirky Milligan Retro Multi Draw Desk (£379.00) with assorted draw handles and retro styling is sure to brighten up any office space. Made from sturdy and sustainable mango wood it provides plenty of room for a laptop and any other office essentials.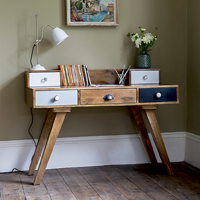 The Wordsworth Vintage Table Lamp in White (£59.00) is ideal for reading and its traditional style makes it perfect for a retro-themed space.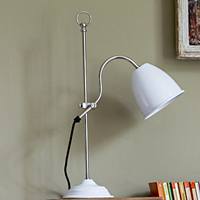 Harness the potential of the hallway
For a stylish spot to check morning emails or sort through papers, the hallway can be a great space for a home workstation. The monochrome Cuboid Geometric Bone Inlay Console Table (£595.00) is perfect as its slim shape will not take up too much space, and it is far too stylish to be hidden away in a study. The bone inlay gives the table a striking 3D twist while the drawers will keep all letters and documents out of sight.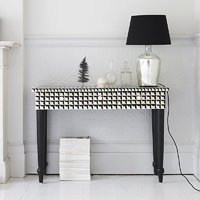 Setting the tone
While you may be working at home in familiar surroundings, it is important to create a different atmosphere in order to be productive and focused. Accessories can be used to set the tone of a work place, and do not call for great expenditure or require the overhaul of an entire room.
The Kensington Hand Blown Glass Table Lamp in Brass (£99.00) is simple and elegant and will lend an air of sophistication to any space.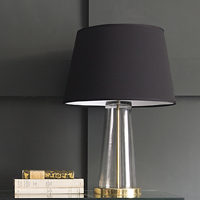 Add some early twentieth century charm with a Lyon Art Deco Mantle Clock (£59.00). In addition to time-keeping, this clock will sit proudly on a mantelpiece, or desk, as a reminder to separate work from relaxation.