Select Softer Shades
Born of bright colours and strong bold shapes, Geometrics; the golden child of the 70's, was not shy. During its wonder years the trend was kept mostly for the walls and floors and for a long while after that, wallpaper was a big no. Whilst wallcoverings have made a comeback and in 2015 a feature wall isn't uncommon, there are more subtle ways of recreating the look.
Soft furnishings are a great way to introduce geometry to the home gracefully and picking pieces in neutral shades will mean they are easy to incorporate in to any space. The Geometric Patchwork Cowhide Rug pays tribute to this; its muted tones looking equally as at home in both contemporary and traditional spaces. The Eclipse 3D Cushion is ideal for sprucing up more modern spaces; its congruous print providing a focal (and talking!) point, without dominating the room.
Be Inspired by the 80s
The Geometric trend has redefined itself decade upon decade; rivalling Madonna in letting us know it's here to stay! The 1980s were no exception and it was in this decade that the notorious Memphis Group carried Geometric Design forward; fusing the symmetrical style of the 70s with Art Deco and Pop Art influences, to create its post-modern pieces.
The style inspired recent fashion lines including Missoni winter 2015 and Christian Dior Haute Couture Fall/Winter 2011-2012 - so is totally on trend and Karl Lagerfeld also furnished his Monte Carlo apartment with Memphis pieces
The Etienne Glass Top Console Table recalls this exuberant and eye-catching style; the spherical silhouette of the legs taking inspiration from geometrics and the antique brass plated iron legs and glass top recalling elegant Art Deco style.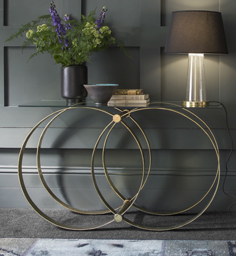 Bright colour was another hallmark of the 80s' re-interpretation of the trend, and our Geometric Reversible Wool Rugs feature colourful accents which recall the bold decade, but won't make anyone's eyes pop in the process!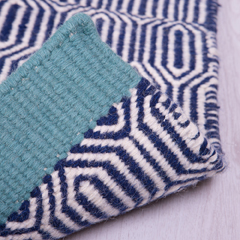 Blend, with the Monochrome trend
The complementary colours; Black and White, can always be counted on to make an impact but are less obtrusive than their bolder cousins; red and green, orange and blue and yellow and purple. For this reason, monochrome style is a great choice for pared-back geometric picks.
The Cuboid Geometric Bone Inlay Console Table is guaranteed to make an instant impact in the hallway, home office or bedroom. Featuring a linear silhouette and graphic cubic pattern, its bone inlay also provides a quirky, three-dimensional twist.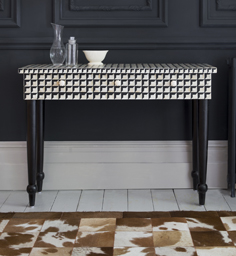 The Cuboid Bone Inlay Geometric Nesting Side Tables is another mathematical model guaranteed to add geometric style gracefully. Featuring a black and white top, the table also incorporates mango wood edging for a softer look.