India has a rich heritage of arts and crafts and has inspired people all over the world for centuries. The V&A's India Festival sums up this fascination with the country's innovative and artisanal culture throughout December and January. The diversity of India's culture runs through the arts and each region has its own specialities. Events have been running from the beginning October ending on the 31st January 2016. The 3rd October saw the opening of the Fabric of India exhibition which focuses on the multifaceted world of handcrafted textiles from India and their trade between the 3rd to the 21st Century.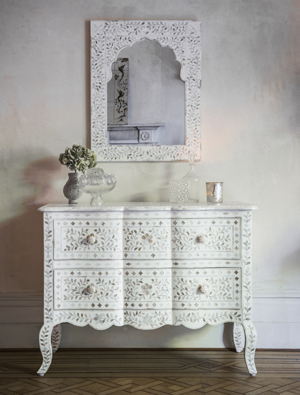 Indigo dying is the arguably one of the most well-known ancient artisanal methods to come out of the country. This traditional method has been used for centuries and is inspired by the natural landscape using leaves and shrubs. India is famed for both its fabric dying as well as its weaving techniques; from a plain weave through to more complex styles India's techniques have influenced the textiles industry all over the world. Our Damask Patchwork Wool Rug in Golden Khaki (£69) is a shining example of the beautiful fabrics to come out of India. The patchwork design which has been over dyed in neutral tones is eye catching enough to make a statement but the laidback neutral khaki shade will blend nicely into most rooms.
India has played a huge part in inspiring some of the pieces we source and the Estelle Bone Inlay Chest of drawers in white (£999) and the Fleur Mother of Pearl Arch Mirror (£298) are just two examples. The Estelle chest of drawers is handcrafted by artisans in Rajasthan; well-known for its traditional handmade arts and crafts which are rich in colour and feature bold prints and embroidery.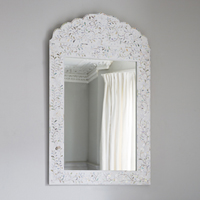 The V&A's exhibition not only explores the history of the textiles industry in India but also focuses on how today's young designers are updating traditional methods to give India's rich history a stronghold in today's modern fabric designs. Long may it continue!