Contemporary statement
This beautiful entrance hall immediately sets the tone for the house with clever touches and an elegant finish. The neutral palate accented with black is calming, yet bold and self-assured; the exposed stone walls give a warm, earthy feel to the space; while the glass door and surrounding panes frame the greenery in the porch and beyond like a picture. The skylight is also a design triumph, flooding the space with natural light.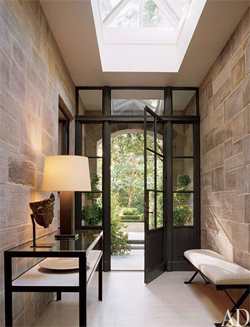 Rustic charm
From muddy boots to wet paw prints; entrance halls in country cottages have to withstand plenty of wear and tear. Yet this rustic entrance hall proves that practical can still be pretty. Natural materials abound with the terracotta-coloured bare brick floor, wool panelled walls, wicker baskets and sisal rugs. The all-important storage has been cleverly built in to provide maximum space, while the soft grey colour ties the whole look together. Sublime!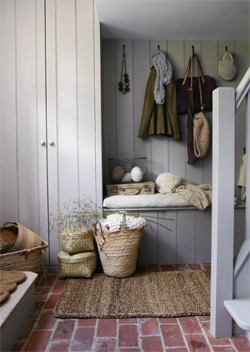 Mid-century cool
The bright colours and quirky designs in this hallway immediately scream fun and is a wonderfully welcoming entrance for a family home. The low open box shelving and modern take on a parquet floor adds a playful touch, while the classic midcentury colour palette - including teal, copper and mustard - works beautifully. We particularly love how the owners have extended the colour of the front door right along the ceiling, making the space feel cosy.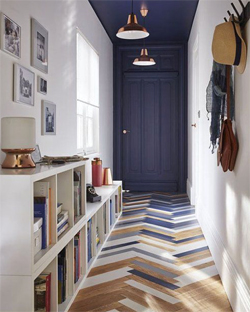 Period classic
This drama-filled entrance hall is a masterclass in how to draw your eye further in and tempt you inside using clever colours. The two beautiful and complimentary tones of green are a classic style statement in themselves, but it is the fiery orange room beyond, signposted with an inviting statement chair, that beckons you inside. This burst of energy, together with the modern runner do a masterful job in giving the whole look a fresh lift, so it isn't too austere.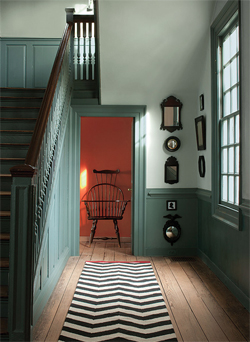 Which of these styles is your favourite and why? And what does your entrance hallway say about you? We'd love to hear from you, so drop us a line on social media and share your thoughts with us!
@atkinandthyme