Springtime Blooms
The daffodil is perhaps the flower most synonymous with Spring, and each year the first bloom heralds the start of the season. Daffodils vary in shade from white to off-pink, but are renowned for being bold yellow in colour. As this is such an uplifting shade displaying it in your home may help boost your mood! A traditional flower, the daffodil will work well in country-inspired interiors, but can be showcased anywhere requiring a little visual (and mental) sunshine!
The tulip is another floral signalling the start of the new season. Available in an array of hues; from dramatic purple and black, to cream, white and pale yellow, there will be a tulip-shaped solution for all spaces! Some tulips appear white on first glance, but have subtle blue or green tones. These will work well in rooms featuring walls or furniture in the same shade as each will work to enhance the other. The array of bright colours available including fuchsia, orange and yellow also means brilliantly bold displays can be created using florals – ideal for the warmer months!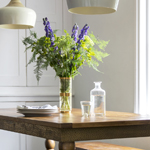 Roses bloom throughout the year, but are most full of life in the Spring and Summer. Grown in a range of colours; from the iconic red to orange, lavender and peach, roses also offer a particularly seductive scent; adding fragrance as well as colour and shape to interiors!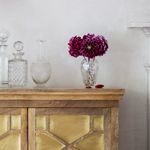 Delightful Displays
A vase is by no means the only way to display Springtime blooms and there are plenty of other creative ways to showcase fabulous florals!
The first place to head when seeking unique and affordable display inspiration is the kitchen. Tins, jam jars, milk bottles and wine bottles can all be washed out and re-used, and old teapots and vintage coffee and tea tins can also be used to showcase flowers. If it fits your style, these can also be painted and decorated with ribbons or beads!
It is also possible to craft bespoke arrangements using your favourite blooms. Florist foam, a suitable box lined with cellophane and your favourite flowers are all you need to create your very own feature! As well as looking great displayed on tables, sideboards, and shelves, these also make lovely gifts for guests to take home with them.