Big colours for big appetites
Choosing the right colour for your dining room can be the most challenging part. Don't let your dining room be the room that got away with being left lifeless in magnolia. Here are some of the top picks for colour:
Red – Renowned for signalling danger, anger or lust; this romantic colour also promotes sociable and lively feelings in addition to stimulating the appetite which makes it the perfect option for any dining room where dinner parties are a common occurrence.
Orange – Orange hues symbolize stability and reassurance whilst aiding digestion, so, it could be the perfect tone to keep family meal times as stress-free as possible.
Yellow – With its bright connotations this summery colour stimulates intellect and injects you with energy so is perfect for a kitchen/diner combination.

Avoid

– Pink and violet are on the dining room naughty list as they can suppress the appetite which is not ideal for a room where dining is king (the clues in the title!).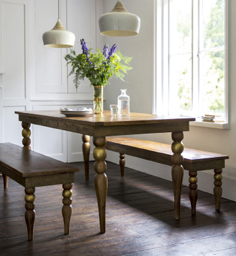 Don't forget that dressing the room with these colours will work just as well as getting the paintbrushes out. Experiment with cushions, seat covers, table cloths, glassware and other decorative items.
Our Bali 8 Seater Dining Table and Kontiki Reclaimed Teak 8 Seater Dining table are both ideal canvasses for any colour scheme.
Let there be light
With the dining room becoming less formal and more social it can now be seen as the hub of communication and lighting can ring the changes and create the perfect ambience.
A low hanging pendant light over the table encourages the table to be seen as a central point, ensuring that once a meal is over people are less inclined to ask to be excused and hang around a bit longer to talk. Our Alhambra Contemporary Ceiling Light in either ivory, burnished copper or black; with a touch of mango wood and a braided fabric flex would sit nicely over a contemporary or more traditional dining table.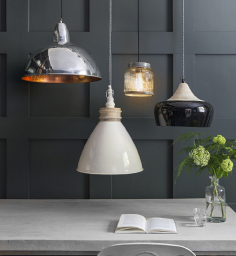 Light Tip: Candles are also great for creating a relaxing atmosphere but make sure you go for non - scented ones, over powering scents can cause havoc with the palette!
Open Plan
With more and more homes boasting open plan living, combining the kitchen, living and dining room into one multifunctional space. It's a really good idea to think about furnishing with pieces that can separate the spaces whilst allowing the room to flow. A statement sideboard housing your best china and showcasing your crystal; as modelled by our Amber Art Deco Sideboard, could signal where the living room ends and the dining room begins whilst subtly linking the two spaces.