Good for the mind and body
As well as looking lovely, adding plants to rooms offers a host of benefits for the body! Greenery has been shown to be a mood booster; reducing stress and helping promote feelings of calm. (It might make sense to invest a small forest come Christmas then…)
Plants have also been shown to aid concentration and memory and to boost creativity, so a desk in a home office might be the perfect place for potted plants!
Flora and fauna absorb carbon dioxide and other harmful gases and release oxygen, so can help reduce indoor air pollution. For this reason, adding greenery to the bedroom may help promote a good night's sleep and can be used to decorate bedside tables or chests of drawers in the space!
Potted plants are not the only way to add the benefits of the natural world to interiors. Simply opening the window or doors or sitting outdoors in the garden and looking at nature can also have a positive effect - calming stress and even helping you focus! We are definitely planning on making the most of the summer evenings ahead and sitting outside with a good book and summery tipple!
Furniture inspired by flora and fauna
In addition to having wonderful health benefits, plants also look lovely and can add colour, texture and shape to rooms. A number of different flowers have been the inspiration for pieces in our range, and we thought we would take a look at the blooms behind the finished pieces!
The clean, curved lines of the Lotus Flower inspired the design of our Lotus White Metal mirror. Featuring soft, contoured lines and a hammered white metal finish, this piece is calming in both shape and shade. Lotus White Metal Mirror £198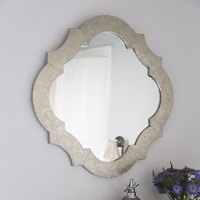 The intricate design of our Nigella mirror is based on the delicate composition of the Nigella flower. The design, coupled with the antiqued brass finish, ensures it is a real focal point. Nigella Wall Mirror £249