Delicate dusting To remove debris or dust from the surface of the rug, use a vacuum cleaner with brushless suction or sweep lightly with a broom. Do not use a roller brush as this can damage the delicate silk fibres.

Soak up spills: It is important to clean up spillages gently and carefully. Solids should be gently scraped up with a metal spoon, in order to minimise friction which could possibly tear fibres. If any liquids should land on your rug, soak up as much as possible with a clean white cloth.
Stop staining: If discolouration is caused by a spillage, mix up a natural cleanser of half white vinegar and half water. After cleaning, absorb excess with a clean cloth and leave to air dry. Specialist cleansers can also be used but whichever method you choose, make sure you test the solution on a small, hidden area (to avoid any nasty surprises!) and leave to dry completely before attempting to remove the stain.
Go gently: It is important to avoid any extremes when treating a silk rug; so this means no excessive heat or harsh chemicals! Don't be tempted to speed up drying time with a heater or hairdryer, and resist using hot water to clean as both may shrink fibres or fade colour
Silk selection
Like each of the pieces in our range, the silk rugs in our collection are handcrafted in limited, low volume batches. Featuring unique and eye-catching patterns and colours, each would make a striking and luxurious addition to a bedroom, living room, hallway or even bathroom!
Lattice Geometric Silk Rug in Fuchsia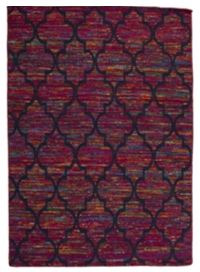 Inspired by Moroccan design, the rich pinks and elegant lattice patterning on this rug will brighten up any room
Hamsa Geometric Silk Rug in Multi
This soft woven rug has a luxurious, velvety texture which is hard to resist! Its muted tones and striking pattern make for a uniquely elegant piece which is sure to attract attention from guests!

Wool Rugs
Wool is easier to care for than silk and can be a more practical option for busier rooms.

Unlike silk, wool can withstand fairly vigorous vacuuming. Hoover regularly to ensure no dirt gets ground into the fibres and work the vacuum in both directions to prevent matting.

Wool is also water-resistant, so a spill will take much longer to soak into the fibres compared to silk. If the spillage is mopped up quickly enough, staining can be avoided completely!

Wonder Wools

Turkish Design Floral Reversible Wool Rug on White
This beautiful hand-woven rug is based on a traditional Turkish design. The floral print is ideal for Spring, yet the wool means it is still snuggly enough for chillier Spring (or even Summer) days!

Geometric Reversible Wool Rug With a Canary Yellow Accent
Work the geometric trend with the Geometric Reversible Wool Rug. The bright Canary Yellow accents add a pop of colour which is perfect for Spring