Bright colours
Brand new for SS17, our Astoria Armchairs (£399) are the ideal accent pieces for spring. Made from mango wood and upholstered in 100% velvet, the chairs are available in three bright colours: coral, teal and mustard yellow; leaving you with the nicest dilemma to have on which one to choose! When adding colour to the home, it can be tricky to strike the right balance between being subtle and OTT. Our colourful armchairs will allow you to make a gradual entry of colour into the home, without blinding any visiting guests! Create the brightest of reading corners or simply utilise as an accessory to bring light to a dark corner or to add a pop of colour to the living room or bedroom.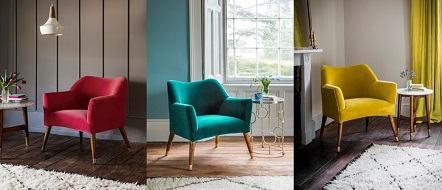 Botanical prints
If bold colours are too overpowering for your interior scheme, opt for a neutral yet equally inviting palette with our Mother of Pearl collection. Available in grey or white with a stunning floral leaf design, the collection is made in India and delights all with its exotic Eastern feel that will bring subtle spring/summer vibes to the home all year round. The Classic Mother of Pearl Console Table in Grey (£595) with its neutral palette blends seamlessly into any bedroom scheme and yet will be the statement piece of the bedroom with its stunning botanical design. For a louder statement, the Atika White Carved Headboard (£449) is the finishing spring touch that all other headboards will crave! A truly remarkable piece made from mango wood with a slight distressed look that will bring a touch of the spring outdoors, inside. When paired with the Atika Grey Carved Bedside Cabinet (£149) the completed look is one that will bring bedroom envy to all!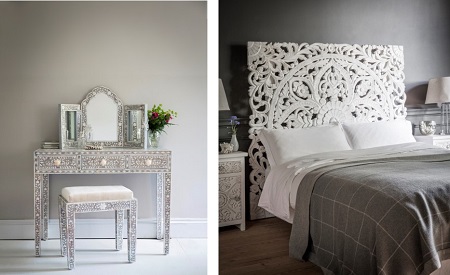 The Kiku collection (meaning chrysanthemum in Japanese) is the epitome of botanical furniture trends, featuring a beautiful oriental pattern that has been delicately etched into the white metal top – completing this Japanese style look. A clean appearance yet boldly stylish in design, the Kiku Bedside Table (£189) will add an elegant touch to the bed as well as provide a practical accompanying piece for your essential bedroom storage needs. Spread this look throughout the home with the Kiku Coffee Table (£299) that will provide a central focus to the living room that doesn't overpower the current room set.
Regardless of what the British weather is doing outside, rejoice in the comfort that your home will be a bright and blooming retreat that can be enjoyed all year round.