A Carnival of Colour
A stunning burst of carmine pink, the Rio Occasional Chair in Velvet is worthy of a carnival atmosphere and the bold hue recalls bright tropical florals. The multi-coloured back panel features the equally verdant hues of lime green, orange and yellow.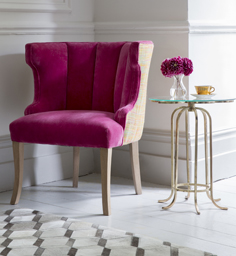 Tropical Textures
Engaging the senses is key to tropical-style décor and the feel of fabrics is as important as their appearance. Natural fibres recall the natural materials found on exotic isles and rough textures and coarsely woven materials such as cane, rattan and hemp all evoke sun-drenched days.
Based on a distinctive design classic, the Papillion Leather Butterfly Chair is made using hand cut tanned leather and sewn with a coarse, heavy-duty thread to exude relaxed island vibes - the next best thing to reclining on a sun lounger!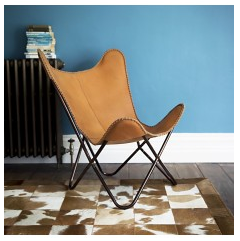 Plant-Inspired Patterns and Prints
From the rainforest to the jungle, oversized plants and foliage are trademarks of humid climes. Either grouped together, or standing alone, large, lush plants will add the vibrancy and vitality associated with the tropics.
Smaller accessories are ideal for introducing bold colours and floral patterns as they provide a pop of colour without overpowering spaces. Neutral seating will be instantly brightened by the Flower Burst Cushion With Luxury Feather Pad and Coral Cushion in Firecracker Orange With Luxury Feather Pad. The warming colours in both are ideal for days when the weather is more British than Bahamas!
Fabrics – Floaty, Featherlight and Bright
Heavy curtains will detract from the bright and airy atmosphere desirable in tropical paradise homes. 'Floaty' fabrics which rustle in the lightest of breezes are ideal for windows; providing privacy whilst still allowing natural light to fill the room.
Carpets too are not often found in tropical island homes, with cooler wooden or tiled floors being preferred Rugs are a great way to add the bright and bold colours of summer to floors. The Geometric Reversible Wool Rug With a Canary Yellow Accent will add instant sunshine and the green trim on the Geometric Reversible Wool Rug With a Sage Green Accent recalls the lush plantlife in sunnier spots.