India – Artisans of distinction
Brace yourself for an attack on the senses and dive headfirst into the sights, smells, tastes and sounds of this vibrant country. We couldn't help but fall in love with India, particularly its rich heritage of handcrafted arts and crafts.
Exquisite workmanship is evident across this vast country, from architecture and sculpture, painting and jewellery, pottery and textiles, to papier mache and wood. And each region boasts its own specialities; the West is known for its gems, marble and tie-dye, while the East boasts filigree, cane and bamboo products. Regions such as Bengal and Rajasthan continue to make their mark on the world art map, and it's here that we have found specialist artisans who craft our beautiful Estelle Bone Inlay Chest of Drawers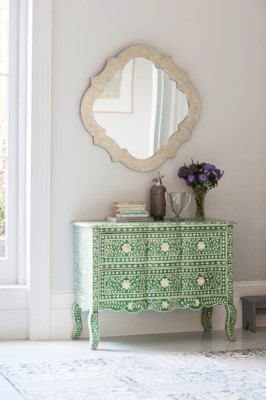 Indian artisans are especially talented crafters of products adorned with mother of pearl – or Nacre –a blend of minerals deposited within the shells of oysters and other molluscs to protect them from foreign objects; once considered even more desirable than the pearls themselves. Handcrafted in India, of course, our classic iridescent Mother of Pearl Inlay Bedside Chest of Drawers in pearly white seamlessly blend modern styling with these age-old traditions.
Bali – A taste of the exotic
Known for sweeping beaches of pure white sand, lush green forested volcanic mountains and ancient stone temples, Bali is about as exotic as you get. But what really strikes you about this wonderful Indonesian island is the warmth; not just of the colours and sights, but also the people.
It's this warmth that we've drawn on in our Bali range made from Mango wood with brass accents, which are a nod to the intricate detailing and rich shades of traditional Balinese art. Handcrafted pieces are the ultimate stamp of authenticity and we love the fact that every item in our Bali range of furniture is slightly different – etched with the personal touch of its creator.
The sophistication of Indonesia's woodcarvers is remarkable and it's long been one of the most widespread artistic crafts in the country. Visitors to Bali should pay a visit to the workshops of the artisans in Tegallalang, Pujung and Sebatu who produce everything from ornate carved doors to figures of gods.
Spain – Where times collide
There are few countries as diverse as Spain – while the sun-drenched plains of Andalusia throb with centuries-old traditions of macho matadors and beautiful flamenco dancers, vibrant cities such as Madrid and Barcelona are the embodiment of contemporary urban living.
It's this contrast of old and new that is reflected in our Spanish-inspired pieces. Take the contemporary polished concrete moulded Barcelona 6 Seater Concrete Dining Table with its wooden legs topped in metal, all handcrafted of course. Or our Alhambra Contemporary Ceiling Light - where Eastern influences meets Western flavours - with its powder-coated iron, mango wood trim and braided fabric flex.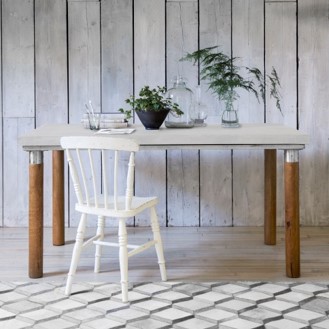 Talking of Alhambra, for a unique taste of East meets West, the breath-taking Alhambra Palace, overlooking the Andalusian city of Granada, is a must-see. Built for the last Muslim emirs in Spain, this is part palace, part fort, showcasing western design elements reinterpreted into Islamic forms. Hand painted glazed tiles, geometrically carved wooden ceilings, lacelike stucco work; the Alhambra is a masterclass in medieval architecture.