LOOK FOR THE DETAIL
A large expanse of a single block shade of grey is never going to be anything other than dull. So look for details that break up the colour, such as studs, trimmings, flecks in a fabric, or buttoning, like in our Pimlico Grey Velvet Armchair (£429) and Hepburn Chair in Grey Velvet (£329). The buttons on the back of the seat cause this creasing effect, which reveals the different tones of the velvet.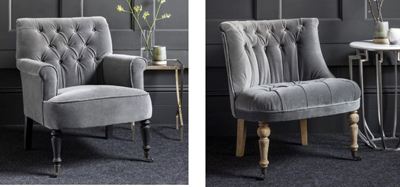 COMBINE TEXTURES
A great tip when decorating with a single colour is to mix up the textures to add interest. This is particularly key when decorating with grey as different textures will reflect light in different ways. Play with a combination of fabrics such as linen, velvet and leather, or go for furniture that combines materials such as stone and metal, wood and leather, or resin with bone inlay as in our stunning Estelle Bone Inlay Chest of Drawers (£989).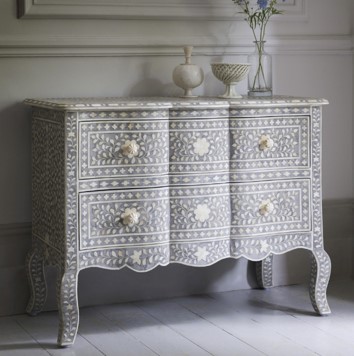 PLAY WITH PATINAS
Another way to add interest to what can be a rather dull colour is by choosing materials with an unusual patina or tarnish. It could be wood, leather or metal that has discoloured - either naturally or deliberately - resulting in a beautiful natural pattern or, as with the curvaceous frame of our Lotus White Metal Wall Mirror (£198), metal that has been hammered to produce a rich patina.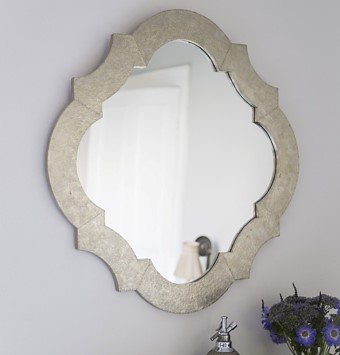 ADD A HINT OF COLOUR
Grey compliments so many other contrasting colours that this one is actually quite easy! Offset your grey and break up the colour by adding a burst of brightness, to avoid your room looking too gloomy. This could be a brunt orange cushion on a grey sofa, a vivid turquoise stripe through a grey rug, or mustard yellow buttons on the back of a grey armchair, just like in our Lola Chair in Grey Velvet (£389).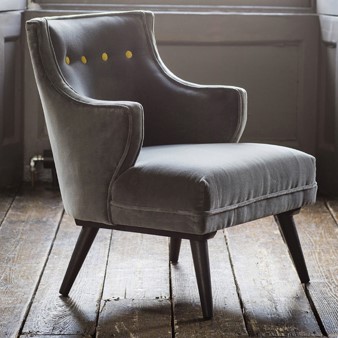 IT'S ALL IN THE LIGHT
Lighting is key when decorating with a largely grey palette, so create clever pools of light that cut through the gloom. Choose the areas you want to illuminate and select the level of your light source (we're talking table lamp, uplighter or ceiling light), and the direction of the light (this will be dictated by your light shade) carefully. As this shot of our Etienne Contemporary Console Table (£449) shows, the table lamp adds a cosy feel to what could be a stark scheme and emphasises the colourful flowers beside it perfectly.