There's a reason why many of us steer clear of primary colours when it comes to decorating and tend to veer towards soft, inoffensive neutral shades instead. Perhaps it's because those true shades remind us of Lego or felt tips pens, maybe they just feel too juvenile and unsophisticated?
Yet used in the right proportions, primary colours - particularly blue and yellow - can look bold, stylish and, above all, fun. And when we say 'the right proportions', we don't mean a tiny trinket here, or a small cushion there - you can't be apologetic with primary colours, as the SS16 catwalks showed. We mean go big and go bold with the focus on larger items of furniture featuring substantial bursts of colour.
Our midcentury modern Calvin armchairs (£339) in bright velvet, tempered by natural linen have all the hallmarks of a future classic, while the scalloped back of our Tallulah two-seater sofa (£599) adds a touch of art deco elegance to the primary blue velvet. Our Watson telephone table seat (£549) has fun written all over it, drawing the eye directly to the sunshine yellow back cushion, which can't help but make us smile!
Either pair primary colours with whites and greys, or really go to town and use two contrasting primary colours together - such as blue and yellow which fall on opposite sides of the colour wheel, signifying complimentary colours. Imagine the result to be less like a child's playroom at the end of a long rainy day and more reminiscent of a modern art classic. So channel your inner David Hockney and be brave!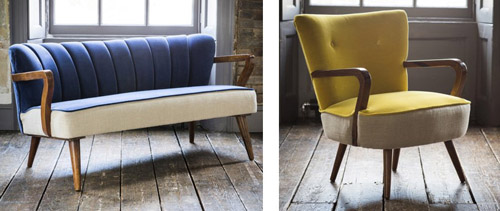 Tallulah two-seater sofa (£599) Calvin armchairs (£339)