Luxurious Armchairs
The luxurious shape, texture and colour of the velvet Rio Occasional Chair is ideally suited to hotel style. The vibrant carmine pink will add warmth to rooms and its shape is simply perfect for sinking into and relaxing with a good book.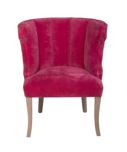 The classic silhouette of the Pimlico Armchair will never go out of style, yet the deep blue velvet provides a funky twist and will inject a burst of rich colour into any room.

Chic and sophisticated, the Hepburn Armchair is perfect for a bedroom or living room. The natural linen echoes the neutral palate found in many boutique hotels and will help create a calming and relaxing look.

Statement Design Pieces
As well as luxurious textures and bright colours, bold statement design pieces are also key to the boutique hotel look.
The I Spy White Metal Mirror will make a striking and original focal point in a hallway, bedroom or living area. Recalling the design of a window, the mirror's hammered white metal frame will also naturally tarnish over time; adding to its character.

Display a vase of flowers or your favourite glossy magazines on a striking side table such as our Honeycomb Glass Top Side Table. Inspired by the delicate yet strong formation of honeycomb, this bold design is ideal for hotel chic.

Bedroom
A lack of clutter is key to hotel style and the bedroom is one place where this should be kept in check – the room should be purely for sleeping and relaxing in.
Piling bright cushions against neutral bed linen will help recreate the effect of hotel décor. This is also an opportunity to add a pop of colour and customise the space to suit your own taste. Recall the warmth of a roaring fire with the Coral Cushion in Firecracker Orange, or sink into the Leaf Cushion in Emerald Green ; embroidered with an exotic tropical leaf pattern.


Soft, ambient lighting is also key to hotel style. The Genie Hand Blown Table Lamp is a convenient and stylish piece to keep by your bed, and will see you through darker evenings in style.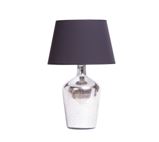 Although emulating a hotel, remember to add personal touches to the space – display photos or prints inspired by your hobby, holidays, or family and friends!