Picking furniture

The furniture or accessories you choose will depend on the style of the room and your own taste, but there are some timeless rules to help ensure you pick the perfect piece.

Bright colours will instantly draw the eye, especially when placed within a neutral or monochrome colour scheme. The uniquely bold carmine pink shade of the Rio Occasional armchair is ideal.


Bold design is also guaranteed to command attention. The Papillon Handmade Leather chair is modelled on the iconic Butterfly chair and will make a statement in any room. Handcrafted from high quality, tanned leather, this armchair fits with a variety of interior styles yet is guaranteed to stand out in each.

A focal point does not have to be just one item and sometimes an artistic grouping of carefully curated items can have the most impact. Base the collection around pieces with an interesting shape, colour or pattern, such as the iridescent dressing tables, stools and mirrors in our Mother of Pearl collection. When paired with accessories such as flowers, jewellery and perfume bottles, these become as striking and personal feature.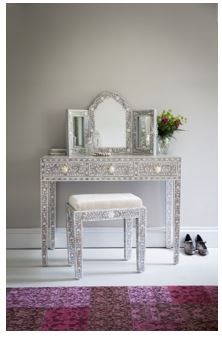 Focal points are not always found at eye level either, and lighting can easily become the heart of a room. This is especially useful in tighter spaces as it will drawer any visitors' eyes up; expanding the area. The Arcadia Three Cluster Ceiling Light is ideal for industrial-inspired spaces; the trio of non-coordinating burnished copper cage lights creating a statement wherever it is hung.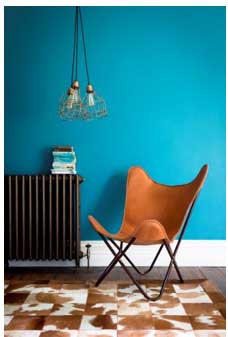 A mirror is another clever option for smaller rooms as drawing the eye to a reflective surface will help create the illusion of extra space. Based on the design of a window, the I Spy White Metal Mirror will attract both the eyes and interest of guests.

No matter what you choose, the piece should be different enough to stand out, yet work with the full scheme to enhance and pull it together!

Where to display it

Some rooms have features which announce themselves as focal points, such as a fireplace or strong architectural feature such as an exposed brick wall. If your room does not contain such a dominant detail, do not despair! There are easy ways to identity which part of the room should be emphasised.

Natural light always draws the gaze, so an area by a window or conservatory may command the most attention. Wide doorways leading to an adjoining room are also focus points and one wall in a room generally stands out the most. Once the most prominent feature is identified, placing the right piece of furniture in it will result in a striking focal point which not only commands attention, but enhances everything else in the room!