'A Warm Day, with Bright and Sunny intervals'
Regardless of what it says on the weather report, incorporating warm and bright colours into rooms means you can be certain of sunshine. Warm colours, such as red, yellow and orange have been found to stimulate production of the 'feel good' chemical dopamine – so not only will incorporating these summery shades in to schemes brighten interiors, they will also lift your mood!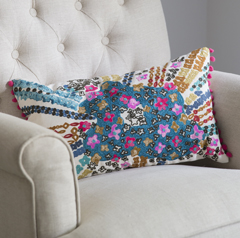 Accessories are an excellent way to introduce bright and bold shades to spaces. Not only can they be easily updated with the change of season come winter (apologies for mentioning the 'W' word…), the fact they won't overpower rooms makes them the perfect choice for those who are slightly tentative about adding brighter tints. Featuring a number of tropical tones including yellow, red and fuchsia, our Flower Burst Cushion is the ideal accessory choice for conjuring thoughts of the warmest month.
Prints inspired by tropical locations will boost the impact of bold colours and enhance the summer mood even further. Our cotton Leaf Cushion is embroidered with a pattern which recalls the lush and verdant plants which grow in hotter climes and available in a bright Emerald Green. The Coral Cushion is also inspired by a print which recalls warm days spent by the ocean and is available in Firecracker Orange as well as Navy.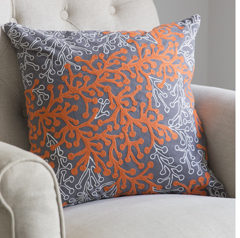 When selecting bright and bold accessories, don't be afraid to pick clashing colours and prints – this season's boho and travel-inspired looks makes this an on trend look for Summer 2015.
Holiday-Inspired Home Accessories
Home décor which speaks of trips to blissful retreats in far flung locations can also help evoke the mood of sunshine-filled settings.
Our handcrafted Sail Away Yacht sparks thoughts of trips around top boating destinations such as the French Riviera and the Amalfi Coast. Standing at nearly a metre high, this beach-inspired piece makes it the perfect focal point for summer schemes and will ensure blissful days out at the ocean are top of mind. Handcrafted from solid mango wood and iron, the high quality yet unostentatious materials recall the relaxed and natural mood synonymous with summer. The Globe on Tripod Stand also speaks of summer trips. Inspiring thoughts of adventures far and wide, the piece can also be used to plan your next holiday away.
We don't know about you, but as soon as we reach our holiday destination we head straight to the beach; ready to relax on a deckchair or beach mat. Recalling the reclining design of deckchairs, our Papillon Leather Butterfly Chair is perfect for a beach-inspired space. Crafted using hand cut leather and sewn with a coarse thread, the chair's texture also recalls the weathered, slightly 'undone' look which is characteristic of outdoor summer furniture.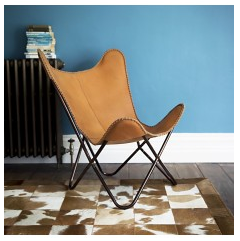 Rattan beach mats are another beach bag staple and rugs which recall these; whether through colour or design, can also help add a sunshine-inspired vibe. The striped design of the Geometric Reversible Wool Rug recalls the linear design of these mats and the Fuchsia or Canary Yellow accent options are suitably bright and bold for summer rooms.