Be Bold with Patterns, Prints and Colours
The boho way of life is synonymous with a certain freedom from restraints and regulations and this definitely holds true when picking patterns and prints for schemes. This is most definitely the time to throw out the rule book and rather than playing it safe and selecting patterns of similar sizes and shapes and complementary hues, clashing colours and disparate prints should be embraced!
Rugs and cushions are the ideal building blocks for this dissonant décor. Featuring the bright colours and strong patterns crucial to bohemian style, these accessories allow for both elements to be added sparingly - ensuring the finished look is contemporary and current. Our Fleur De Lis (£29) and Flower Burst (£29) cushions are both ideal for boho rooms due to their nod to the natural world, lively colours and strong prints, but this is the time to go with your heart when picking pieces - if you love it, it probably works!
Go Global
The word 'bohemia' comes from the French 'bohémien' meaning 'gypsy', and travel is key to the look. Pieces inspired by exciting and interesting destinations form a crucial part of free-spirited schemes, but you don't have to book a round-the-world plane ticket to get the look.
Our Floral Reversible Wool Rug (£249) is inspired by traditional Turkish design and the Lattice Geometric Silk Rug in Fuchsia (£69) takes its cue from Moroccan interiors. Both will add a sense of wanderlust to schemes, with none of the associated air miles. Our Globe on Tripod Stand (£59) is also in-keeping with the adventure aesthetic and can be used to plan that round the world trip, should the need ever arise…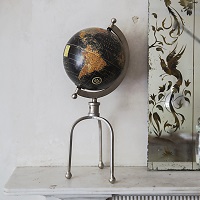 Boho lighting should be striking, and taking style inspiration from aboard will help create an impressive and original display. The curvy outline of our Alhambra Ceiling Light (£99); which is available in Black, White and Burnished Copper, is ideal for romantic retreats and can be hung either on their own, or together. Varying the heights of lights is also ideal for laid back looks and the Alhambra has a fully adjustable flex.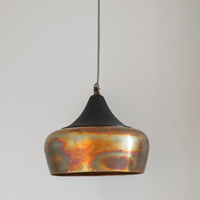 Add Eclectic and Artistic Accessories
Interesting curios reminiscent of discoveries made in flea markets and antique shops are ideal for free-spirited spaces. Like prints and colours, these do not need to match - indeed, a varied mix of pieces is perfect for creating the desired 'treasure trove' mood!
These eclectic accessories should turn heads and garner second glances and we have a range of eye-catching pieces in our collection. Handcrafted in the shape of a key, the Lyric Side Table (£99) is sure to stand out and is also perfect for displaying books – an important element of the boho look. Our Decorative Cut Glass Balls (£59) feature intricate and intriguing engravings and will also bounce light around rooms, while our Percy Ceramic Vase (£49) is a quirky way to display flowers - another mainstay of free-spirited spots.